Love&small vol.5, the script "Occurrence in School" is about to be completed through discussions with Cape.
Are there school uniforms in your country?
In Japan, there are many types of school uniforms especially for girls and it affects the mood of the story.
This time, we wanted Cape to decide the uniform, so we sent an e-mail about it.
The response was quick, but, wow! It was so detailed!
Especially, slippers were the most difficult.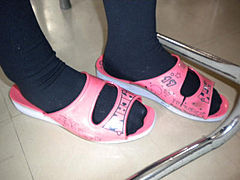 In Japan, when we go inside the school building, we change outdoor shoes to indoor shoes at the place called "getabako," meaning a shoe cupboard.